Vacuum Power™ - Pore Cleaner & Blackhead Remover
Real time
17
visitors right now!
$38.99
$78.99
You Save:

$40.00

(

50

%)
This product was viewed 5 times within last hour
Blackhead Removal Vacuum 
Are you looking for a better way to naturally remove blackheads without any harmful effects to your skin? 

Look no further. With only 1 to 2 five minute weekly treatments with our Blackhead Removal Vacuum to clean out excess oil and dirt will result in a noticeable difference that you can see and feel.
 Blackheads are hidden in the pores. Using the wrong method to extract the pores might hurt your skin. The key to getting rid of blackheads is to open the pores. Proper suction can thoroughly suck out blackheads, whiteheads, acne, dead skins, and clean your pores. Your skin immediately appears vigorous after using our Blackhead Vacuum Pore Cleaner that works for all skin types.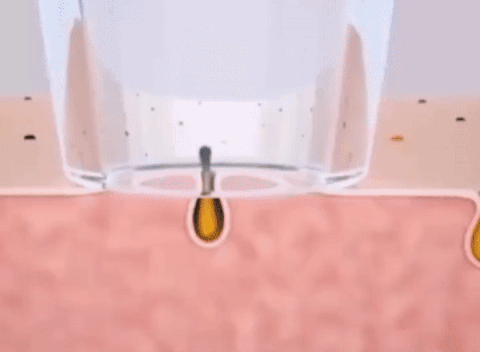 Our vacuum suction device is designed to be a professional alternative to beauty salon treatments and can help to remove blackheads, acne and deeply clean the face. The vacuum is also suitable for treating dry skin, sagging skin, dull skin and wrinkles. Vacuum function cleans dirty pores through suction and increases blood circulation in the skin.
Comes with 5 replaceable beauty heads, which can offer different functions.
PORE CLEANSING - Will reduce rough skin, blackheads, dark spots, fine lines and acne to make skin smoother, clearer and tighter. Untreated blackheads can turn into whiteheads and could leave scars for life when extracted incorrectly. 
CONVENIENT TO USE - USB rechargeable so it can easily be use anywhere. 
GREAT FOR ALL SKIN TYPES - Blackhead Vacuum works on all kind of skin. 
REDUCES & PREVENTS WRINKLES - Refreshes skin and increases blood flow which helps to reduce wrinkles.
DERMATOLOGIST LEVEL TREATMENT - Professional dermatologist level treatment without ever leaving the comfort of your own home.
QUICK AND EASY OPERATION:
1. Please be sure the cleanser vac is charged before operating for the first time
2. Press and hold the power button to turn on cleanser
3. Select mode from low to high via power button
4. Glide the cleanser across skin or face to cleanse desired area 
5. Press and hold
Features:

Reduces the appearance of pore sizes
Increases hydration
Removes dirt and oil
Leaves your skin soft & flawless when it's time to apply makeup
Allows your skin to absorb skincare products up to 20x deeper
Is designed to assist you with exfoliation, skin rejuvenation & spot cleaning
Provides you the same results as professional, in-salon micro dermabrasion treatments
Makes skin look and feel beautiful
All from the comfort of your own home