Full Face Anti-Fog Snorkel Mask
Real time
14
visitors right now!
$61.99
$124.99
You Save:

$63.00

(

50

%)
This product was viewed 10 times within last hour
Do you enjoy snorkeling?
Then this Full Face Snorkel Mask is for you!
✓ ALLOWS NATURAL BREATHING – Take away the fear of drowning or the worry of not breathing correctly! This Anti-Fog Snorkel Mask is designed so you can inhale and exhale through either your nose or your mouth. The natural breathing design helps keep you calm and relaxed in the water. It's an excellent feature for teaching budding divers how to snorkel.
✓ SEALS COMPLETELY – Don't worry about having too large a mustache, or having smiles break your Full Snorkel Mask Seals. The mask seals around your entire face, which decreases the chance of water getting into the mask when you smile. There is a rear strap that secures the mask in place, allowing you hands-free unfettered exploration underwater. The strap is elastic and requires no "clipping" of ends to secure.
✓ KEEP WATER OUT OF YOUR MASK – Featuring Dry Snorkel Technology, this Foldable Snorkeling Mask has the standard "ball float system" that stops water from entering the tube when you are submerged. Our Full Face Snorkel Mask is designed in such a way that even if a small amount of water manages to get into the snorkel, it will be channeled away from the face and into the chin area of the mask. Simply bring your head above the water line to allow draining of any water collected below your chin. Our Underwater Breathing Mask has a extra large draining valve.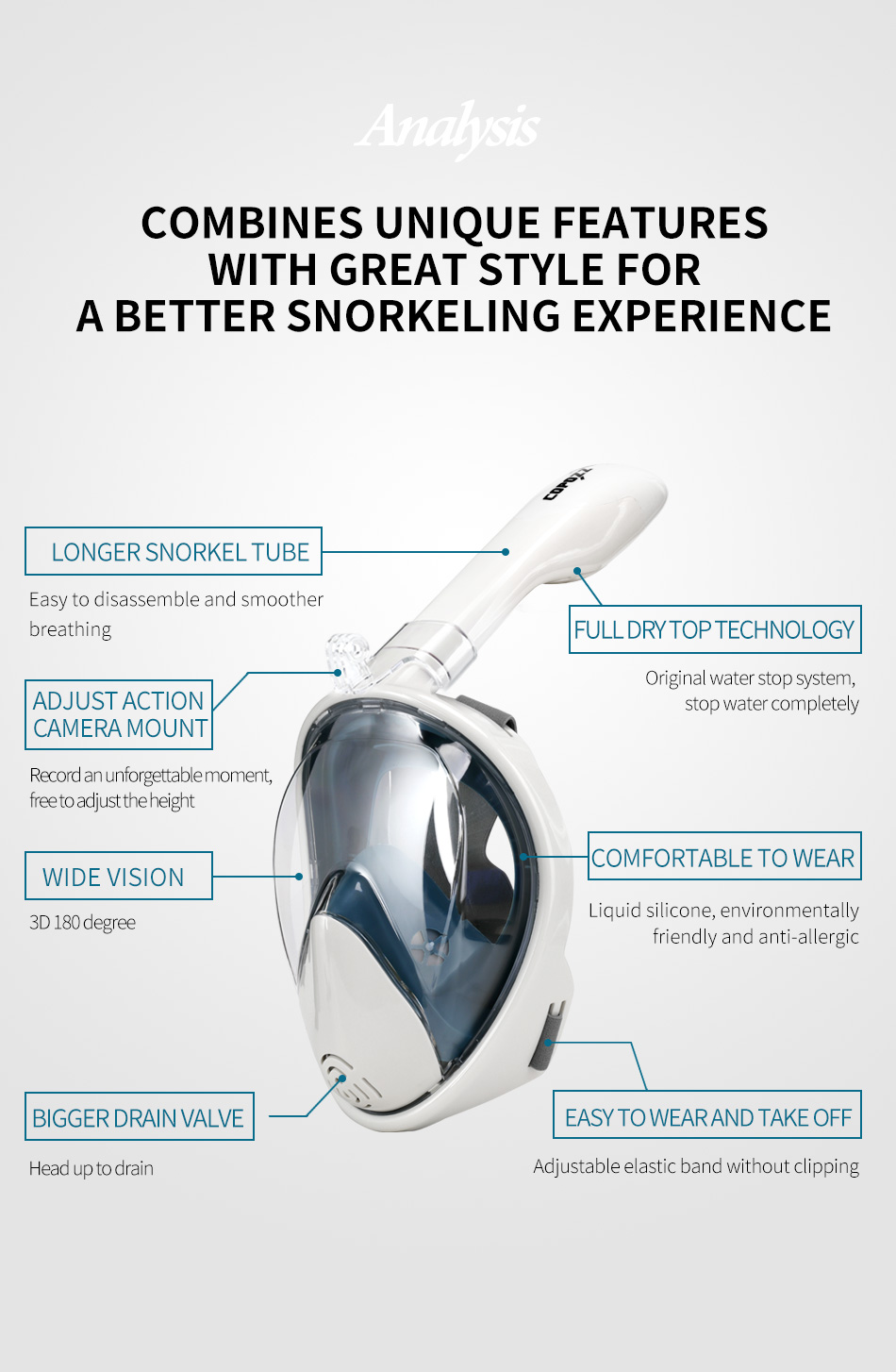 ✓ ANTI-FOG SNORKELING MASK – Featuring a dual vent system our Snorkeling Mask won't fog up as a regular mask does. The venting allows the air to circulate within the mask, preventing fogging.

✓ NO MOUTHPIECE – Since there is no mouthpiece to grip onto with our Full Face Snorkel Mask, you can snorkel for extended periods of time without your jaw becoming fatigued. You don't have to be concerned about discomfort from sore jaws and teeth.

✓ ENJOY YOUR FULL VIEWING RANGE – Our Snorkel Mask is designed with a curved faceplate that extends behind your eye and provides a clear uninterrupted 180-degree view. The frame seals behind your vision line, which means that it won't interfere with your view.

✓ CAMERA MOUNT – This Beginners Snorkeling Mask comes with an adjustable camera mount that sits above your head, making it easy to accommodate different camera sizes and record your underwater sightings. Here's your chance to show your friends the world through your eyes!